POLY(ACRYLIC ACID) PAA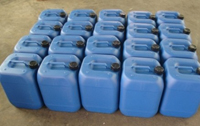 Use
Widely used in paper and textile, printing and dyeing, ceramics, paint and other industries.
Quality Indicators confirm to GB/T10533—2000
Item
Indicators
Appearance
Colorless or light yellow transparent liquid
Amber transparent liquid
Solid content % ≥
30.0
50
Free monomer(CH2=CH-COOH ) % ≤
0.50
1.0
Density(20℃)g/cm3 ≥
1.09
1.20
PH(1% water solvent ) ≤
3.0
3.0-4.5
Limiting viscosity number(30℃)dl/g
0.06-0.10
Packing and storage
PAA packed with plastic drum,each drum 25kg.stored in cool place indoor,storage period:12 months.
Protection
PAA is irritating to eyes and skin, but no acute toxicity.